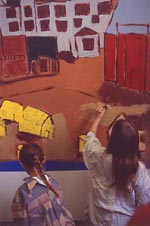 I conducted a two-week residency at Seneca Elementary School in March 2002. Students, grades kindergarten through 8th, designed and painted a large indoor wall mural. The completed mural measured approximately 12 feet wide by 8 feet high.

Seneca is a small rural school. Total student population is 43. Four teachers conduct lessons for at least two grade levels in the same room (for example, 3rd and 4th grade students shared the same room and teacher.) In this atmosphere of sharing across age groups, the mural project became a team effort for all students. All took ownership in the mural and older students had to be willing to accept kindergarteners' skill level work as part of the imagery.

During the first week of the residency, each class participated in a discussion about safety issues and material concerns. Art terminology and some broad conceptual issues were also introduced. Next, the students brainstormed ideas for a mural theme, elements, and composition. Prior to the start of my residency, all students had attended a Seneca history lecture and slide presentation by a local historian. The mural's theme, "Seneca, A Logging Company Town," was based upon that presentation and independent student research.

LEFT:  

Students apply intial color layers over the reddish brown base coat.

BELOW:  

Students invent simulated texture through the use of color to simulate rusted metal on the wigwam wood  burner associated with the lumber mill (1); gravel, mud and vehicle wheel ruts (2); and roof shingles (3). Throughout the mural, students learned the color wheel and basic color theory appropriate for their grade-level.

RIGHT:

Details from the mural.

CLICK on image

to link to larger size.


To return

use your computer screen's

Back button (located on your

tool bar.)
Each detail demonstrates

how students adjusted their

marks (lines and color fields)

as the painting progressed,

leaving several underlying

marks/color to show through

subsequent layers.

In the bottom detail,

my painted contribution

to the mural---

a longjohn-clad chap

in a dash from cheese box

to privy!

Email me for information about an Artist in Residence program for your school or organization.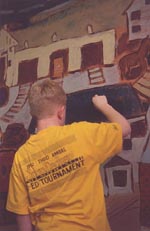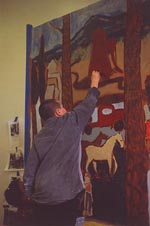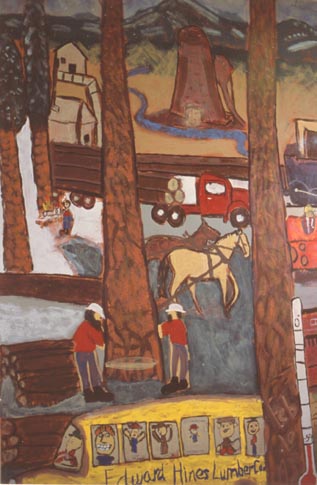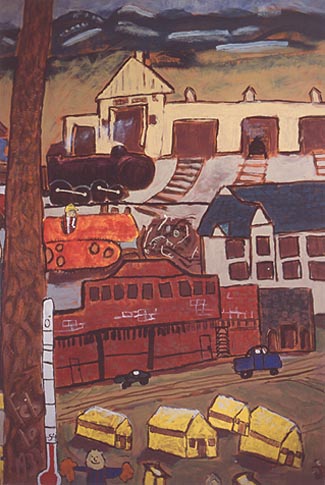 BELOW: Three photos showing about one third

of the mural in each. The mural's location (hallway)

made photographing the image in its entirety difficult.

LEFT:

This is the mural's far left third.

Among the images depicted are:

The historic logging camp

Traditional horse team logging

Wigwam burner

Silvies River

Logging trucks

Sawyers

Ponderosa pine

Loggers going to work on a bus (which is historically known as a "crummy")

and

Thermometer (showing Seneca's record cold date and temperature.)

LEFT:

This is the mural's middle third.

Among the images depicted are:

The historic trains and train shed

Logging cat

The company store complex

The hotel

and

The tiny yellow loggers' quarters, known as "cheese boxes."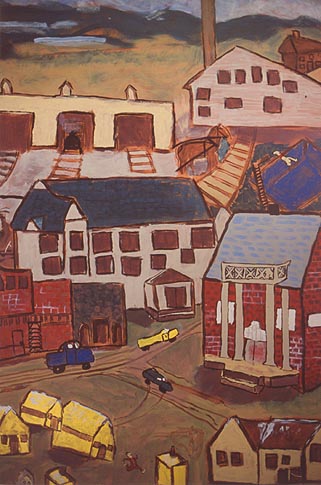 LEFT:

The mural's far right third.

Among the images depicted are:

The historic trains and train shed

The hotel

School house

Lumber mill

Manager's house

Old Jud (horse)

Company swimming pool

and

The city hall.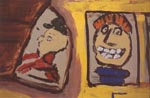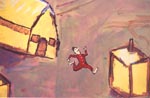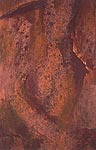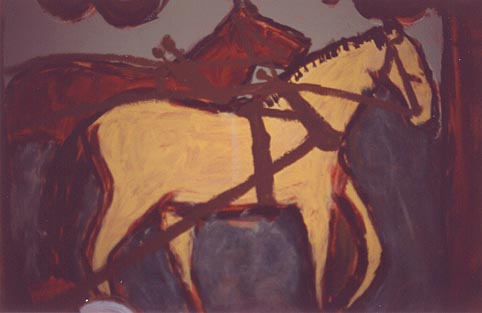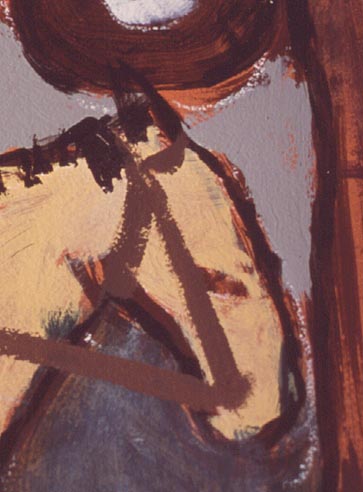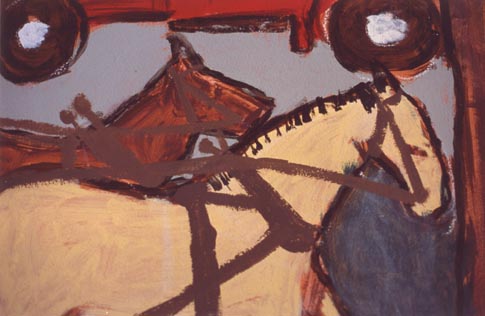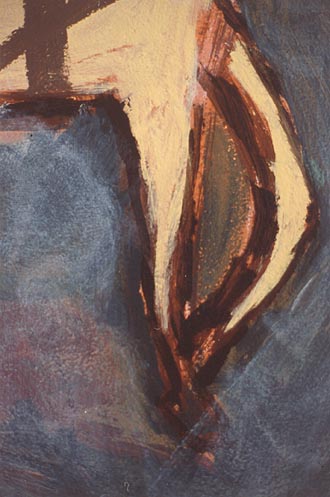 BELOW:

The next series of images are progressively closer photos of the horse team. This area of the mural provided a good example of how students experimented with linear marks and various methods of color application.

LEFT:

The overlapped lines and color were especially interesting in this horse's head and ear.

Multiple lines create the illusion of movement.

LEFT:

An example of how colors were washed over underlying colors and

allowed to be optically mixed

by the viewer.

ART-in-Education

C.S. Poppenga

Seneca Elementary School, Seneca, Oregon (USA)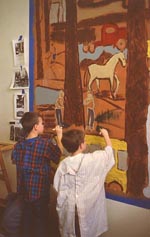 CLICK images for larger view.