ART-in-Education

C.S. Poppenga

Artist in Residence

Irrigon School - Irrigon, Oregon

In April-May 2005, I was an Artist-in-Residence for three weeks at Irrigon School in the community of Irrigon, located between Boardman and Umatilla along the Columbia River.

A total of 345 students participated in the mural project. Operating on a small budget, the school allocated one 4 x 8 ft sheet of smooth side plywood per grade level on which to create a mural. Grades Kindergarten through 5th created murals (six murals total.)

Each grade level mural was different from the others, with the intention that the completed works would be displayed in the appropriate grade level hallway of the school. However, once the murals were completed, it was determined that they would be better displayed and appreciated if installed on the walls of the cafeteria (which also serves as an assembly auditorium with a formal stage at one end.)

Irrigon School has no formal art program in place. Students were very excited about doing an art project and for that reason, coupled with the large number of students involved, I would have preferred using a much larger format than the 4 x 8 ft sheets. I broadened student participation through the use of some in-class programs and discussions. When the residency was over, I felt confident that every student had some input into the works accomplished.

LEFT:

Students were able to work in small groups for short periods of time on their gradelevel's mural panel. These students are fourth graders. Their panel was a take off on a black and white aerial photo series of Irrigon and the surrounding landscape of circle irrigation fields, other communities, fields and the Columbia River. Flat color and shape was the focus during the process.

RIGHT:

Students working on the mural panel for the First Graders. This panel was based on a collection of animal shapes and flat color and contour line.

Areas of strong complementary color pairs were intentionally included.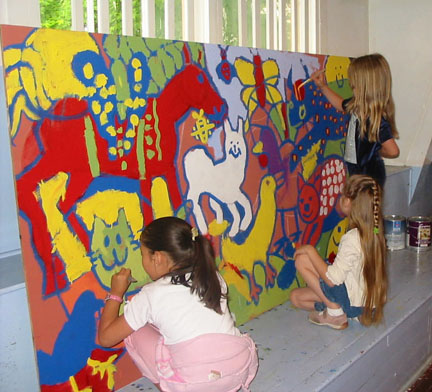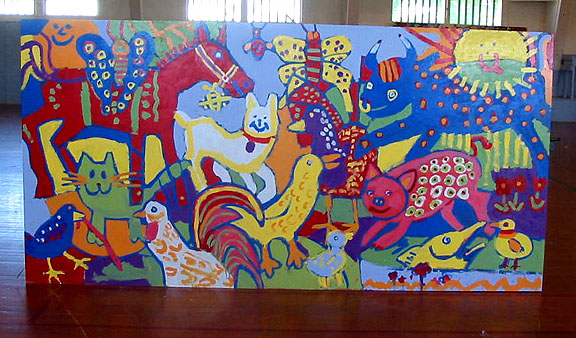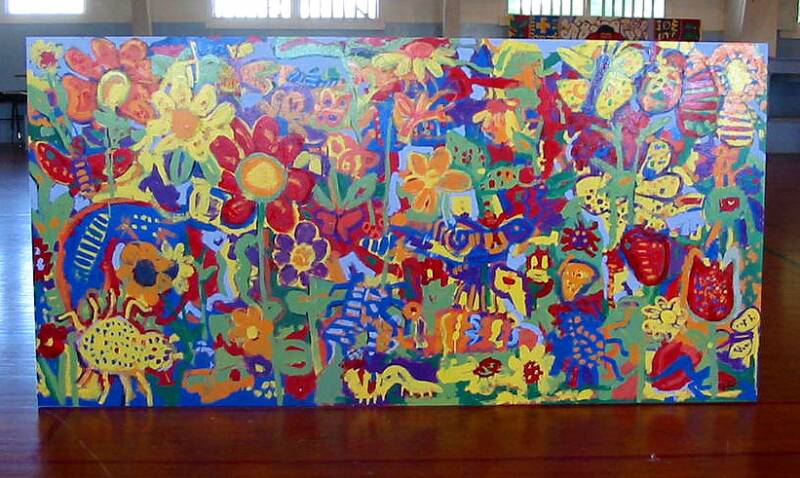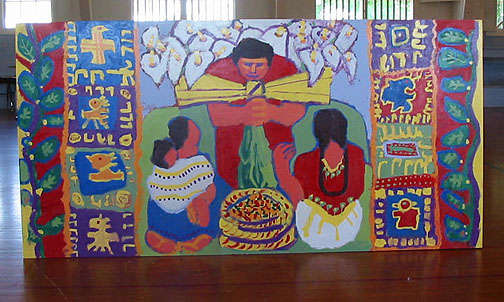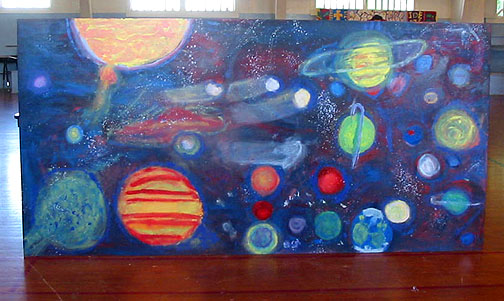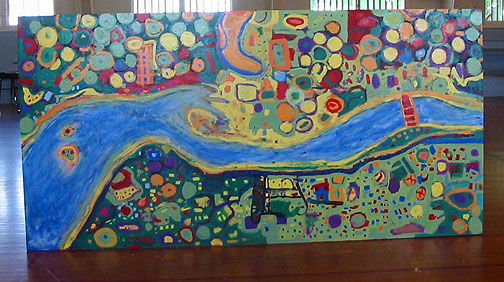 BELOW:

Detail of Grade 3 panel. The process focus of this panel was paint itself. How can paint be manipulated to be beautiful in and of itself? CLICK small image